Before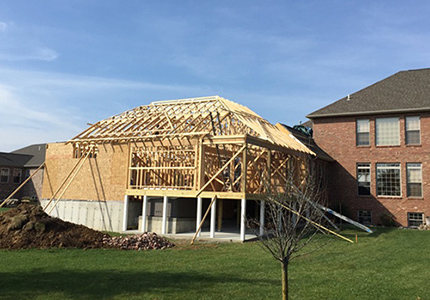 Virtual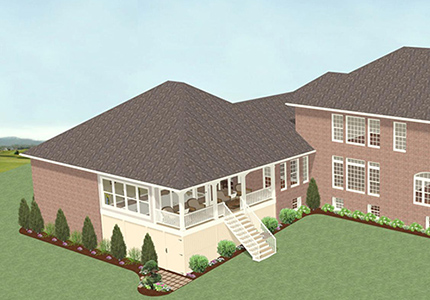 After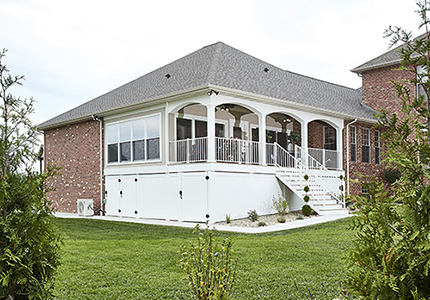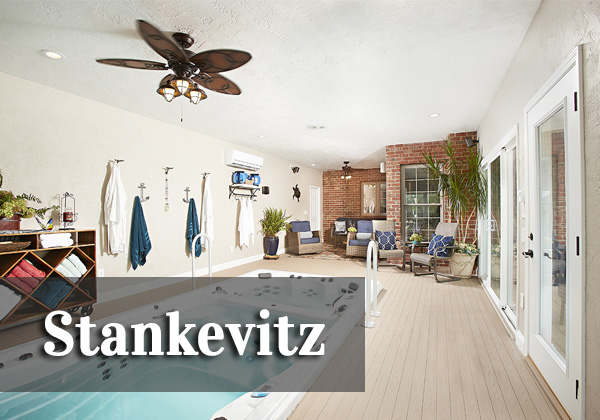 Room additions are commonly installed on the side or rear of a home. However, installing a room addition off the corner of a house can be much more challenging to make it look like it was always a part of the home. The challenge of making a room addition look "natural" off the corner of the home would be compounded in difficulty if the addition was going to be 1,774 sq. ft. in size. This was the tall task given by the homeowner to the contractor.

This massive room addition design would include a 985 sq. ft. garage addition with an oversized garage door leading to a 12' coffered garage ceiling, a 227 sq. ft. arched covered deck, and a 562 sq. ft. swim-spa room with a seating area and changing room. Existing site grade-elevation changes were a challenge given the size and location of the addition. With 4 feet of drop off at the front of the garage addition and nearly 8 feet at the back; the garage footing walls held 269 tons of rock-fill.

The custom-built 8' by 20' hot-tub and swim-in-place spa had to be craned in over the home due to minimal access to the jobsite, and then sat atop a 4-foot tall summit of footing, rock, rebar, and concrete. The swim-spa was recessed into the waterproof PVC "Azek" tongue-n-groove flooring inside the spa room. The Spa Room was given extra attention to moisture-control with plaster walls being painted with washable paint, PVC baseboards, (2) 160 cfm moisture-sensing exhaust fans, and (1) dedicated Trane Mini-Split unit to keep the room at a comfortable temperature year-round.

The existing hearth-room off the back of the room had most of the roof removed to be able to properly tie-in the new roof design. Size, color, and texture matches were carefully made for the shingles, soffit, gutters, brick, dryvit, and garage door design to ensure a seamless fit to the existing home.

Other details included white privacy fencing below covered deck and spa room. Doors were strategically placed inside the fence walls to provide proper access to the spa control and access-panels. Finished concrete below these areas also provided a large amount of exterior storage for yard tools and equipment. Finishing touches included low-maintenance Azek decking with Westbury Aluminum handrails for the covered deck and star areas.

We can say with certainty that another addition exactly like this will never be built again. Both the contractor and homeowner are beaming with pride that the construction and finished product were executed so amazingly to the planned specifications.